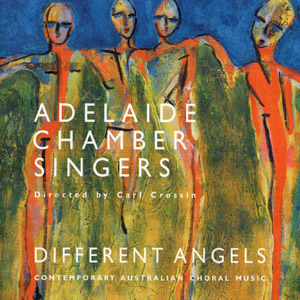 This CD can be purchased through John Davis Music, 1/15 Vaughan Place, Adelaide (T 8232 8287) or www.trybooking.com/JTTQ
If there is anything on this earth which all cultures throughout all time have in common with each other it is the search for a spiritual foundation for life; an explanation of our existence. Humanity defines its fundamental differences and its common bonds by the circumstances of its search for spiritual fulfilment.
From the Aboriginal Dreaming's creative spirits of Uluru to the firm yet loving God of Job and the generous spirit of Jesus Christ, there is a deep spirituality at the core of all of the music on this recording which encompasses three different religious traditions. All of the music manifests the passion and the yearning of the search even though each work sings of different "angels".
Click on the underlined tracks to listen to a sample.
| | | | |
| --- | --- | --- | --- |
| 1 | Et Misericordia | Clare Maclean | 11:50 |
| | Great Southern Spirits | Stephen Leek | |
| 2 | Wirindji | | 4:35 |
| 3 | Mulga | | 5:36 |
| 4 | Kondalilla | | 5:37 |
| 5 | Uluru | | 9:17 |
| | Wassails and Lullabies | Andrew Ford | |
| 6 | Song of the Nuns of Chester | | 4:56 |
| 7 | Corpus Christi Carol (refrain) | | 0:24 |
| 8 | Gloucestershire Wassail | | 1:23 |
| 9 | Corpus Christi Carol (verse and refrain) | | 0:50 |
| 10 | This Endris Night | | 3:51 |
| 11 | Corpus Christi Carol (verse and refrain) | | 0:45 |
| 12 | Susanni | | 1:45 |
| 13 | Corpus Christi Carol (verse and refrain) | | 0:48 |
| 14 | Coventry Carol | | 4:14 |
| 15 | Corpus Christi Carol (two verses and refrain) | | 1:05 |
| 16 | The Boar's Head Carol | | 1:35 |
| 17 | Corpus Christi Carol (two verses and refrain) | | 1:02 |
| 18 | Christ the King |  Clare Maclean | 9:46 |
| | |  Total Time | 69:23 |
Soprano solo in Et Misericordia: Kerry Sampson
Soprano solo in Corpus Christi Carol refrains: Carolyn Wilkins
Semi chorus in This Endris Night: Sheila McCarthy, Carolyn Gale, Chris Stevenson, Kenneth Pope
Solo quartet in Susanni: Bridget Warnes, Emma Foster, Tim van Nooten, Alan McKie
Bass solo in The Boar's Head Carol: Alan McKie
Other Adelaide Chamber Singers CDs