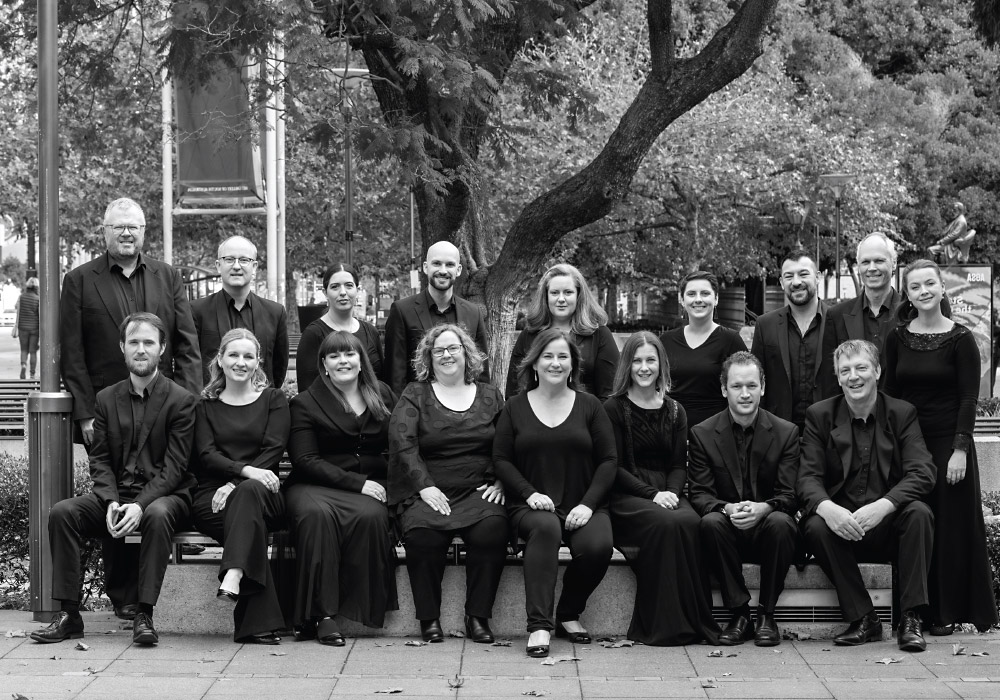 Adelaide Chamber Singers has been a significant contributor to music in Adelaide for over thirty-five years.
Formed by Carl Crossin OAM in 1985, and directed by Christie Anderson since 2022, ACS comprises some of Adelaide's best ensemble singers, most of whom are also soloists, teachers or conductors in their own right. ACS is widely respected as one of Australia's fi nest chamber choirs and was awarded the 2011 Ruby Award for "sustained contribution by an organisation", as well as several awards from the Australian Music Centre at the 2016 and 2017 National Art Music Awards in Sydney.
ACS has performed to critical acclaim around Australia, and around the world, having won several First Places at major international competitions, and three summa cum laude awards in Canada, Italy and at Llangollen in Wales.
Other major international appearances have included the 2014 Polyfollia Choral Festival in France, the 2013 Musica Sacra a Roma in Italy, the 2013 World Choir Games in Austria, the 2006 International Choral Kathaumixw in Canada, the 2006 Cambridge Summer Music Festival in England, the 2004 Tokyo International Festival, the 6th World Symposium on Choral Music in the USA in 2002, the Asia Pacific Choral Symposium in Singapore in 2001, the 1999 Norfolk and Norwich Festival, and the 1996 Convention of the Association of British Choral Directors in Oxford.
ACS has also performed at the Adelaide, Melbourne and Perth International Arts Festivals and regional Australian festivals including the Bundaleer, Coonawarra, Barossa, Coriole and Port Fairy Festivals, the Brisbane Festival of Contemporary Sacred Music, the Musica Viva Huntington Estate Festival, the 2011 WOMAD Festival, and several of the Australian National Choral Association's Choralfests.
ACS also frequently steps out of its 'choral box' to support and collaborate with a wide range of artists including The Rolling Stones, Hilltop Hoods, Greta Bradman, Kronos Quartet and The Tallis Scholars.
At the 2022 Adelaide Festival, ACS performed the world premiere season of Watershed: The Death of Dr Duncan to great critical acclaim. With music by Joe Twist, libretto by Alana Valentine and Christos Tsiolkas, directed by Neil Armfield AM and musically directed and conducted by Christie Anderson, Watershed won the 2022 Ruby Award for "Outstanding Work or Event Within a Festival".
Meet the Adelaide Chamber Singers
Find out what Adelaide Chamber Singers is and does, how it all began, what it sounds like and some of its major achievements. This video was created by Closer Productions for ACS in mid 2014.