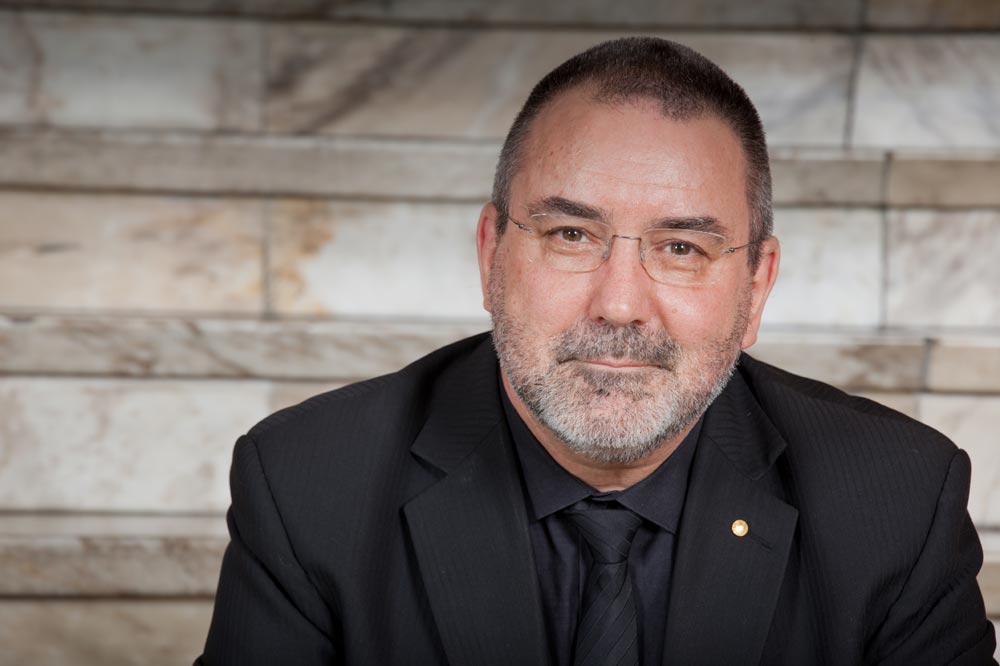 Carl Crossin — conductor, educator, clinician and composer — is well known and respected throughout Australia as a choral conductor.
A graduate of the Sydney Conservatorium of Music and the University of Adelaide, he also studied choral conducting in the United States and Britain as the recipient of International Study Grants awarded by the Australia Council, the South Australian Government, and the Henry Krips Conducting Scholarship.
Carl is Founder/Director of the Adelaide Chamber Singers, the Elder Conservatorium Chorale and the University of Adelaide's chamber choir Adelaide Voices. He is currently on the staff at the university's Elder Conservatorium of Music where he is Director of Choral Music, Head of the Music Studies Program, and Lecturer in Conducting.
Carl has toured nationally and internationally with his various choirs on many occasions. He conducted Adelaide Chamber Singers at the 10th Annual Convention of the Association of British Choral Directors in 1996; at the Norwich and Norfolk Festival in 1999; at the inaugural Asia South Pacific Symposium on Choral Music in Singapore in 2001; at the 6th World Symposium on Choral Music in Minneapolis in the USA in 2002; and at the Tokyo International Arts Festival in 2004.
Carl also took the National Youth Choir of Australia to New Zealand in 1999 for their first international tour, and has toured Britain, Germany and Poland with the Brighton School Choir and Voiceworks Adelaide.
Carl has taught and conducted at a wide variety of summer schools, festivals and conferences throughout Australia and Britain and, as a guest conductor or clinician, has worked with a wide variety of choirs in all six Australian states. He has guest conducted the Melbourne Chorale and Sydney Philharmonia Motet Choir and was Choral Director for Youth Music Australia's National Music Camps in 1999 and 2000.
Carl Crossin's work with singers has not been limited to the choral field: he conducted critically acclaimed performances of Monteverdi's opera Orfeo and Mozart's Le Nozze di Figaro for the Elder School of Music in 2002 and 2003 respectively. Carl has also recently returned to composition. His extended choral work Caritas was featured by ACS at the World Symposium on Choral Music in the USA in 2002, and his Dance for the Daughters of Eve features on the recently released debut CD by the vocal trio eve.
Christie Anderson 
Associate Conductor
Christie Anderson is a singer and conductor and has worked with choirs and choral music for the past 15 years.
Christie began as Young Adelaide Voices' Artistic Director in 2009 and is the conductor of Young Adelaide Voices (First Concert Choir) and YAV's senior vocal ensemble Aurora.
Christie began with ACS in 1994, and has been a core member since returning to Australia in 2001. In 2012 Christie was appointed as the Adelaide Chamber Singers' Associate Conductor and this is her second program with her friends and colleagues.
Christie is a founding member of the award-winning EVE vocal trio and tutor and conductor at Adelaide University's Elder Conservatorium of Music.
She has sung in many festivals in Australia and around the world, including the UK, USA, Norway, Canada, Malaysia and Japan. As a conductor she has conducted both the West Australian and Tasmanian Symphony Orchestras under the Symphony Australia Conductor Development Program and she works with choristers of all ages. In 2012 Christie took Young Adelaide Voices to the USA, where in addition to performances in Connecticut and Washington DC, the Choir received a silver medal at World Choir Games in Cincinnati and swept the pool at the 9th International Golden Gate Youth Choir Festival in San Francisco, winning First Prize in all three youth choir categories.
Christie's next major projects include performing at the Pollyfolia Festival in France in October with ACS and singing as one of 16 chorus members performing all of the Philip Glass Trilogy (Akhnaten, Einstein on the Beach and Satyagraha) for the State Opera of South Australia.