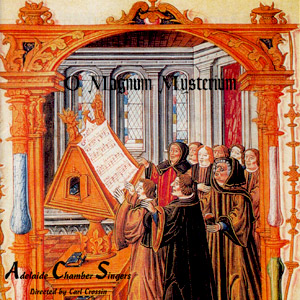 This CD can be purchased through John Davis Music, 1/15 Vaughan Place, Adelaide (T 8232 8287) or www.trybooking.com/JTTQ
From the Medieval plainsong to the contemporary works by Australians Clare Maclean and John D'Arcy, the music on this all-sacred program spans over a thousand years of Western music history. The program contains some of the most beautiful music in the 'traditional Western' unaccompanied sacred repertoire, and although much of it is for the season of Christmas, the spiritual 'content' of the music itself often transcends the religious season or liturgical reason for which the music was originally composed.
Click on the underlined tracks to listen to a sample.
Total Time
61:43
1
Ubi caritas

Maurice Duruflé

2:18
2
Tota pulchra es

Maurice Duruflé

1:50
3
Tu es Petrus

Maurice Duruflé

0:55
4
Tantum ergo

Maurice Duruflé

2:45
5
Verbum caro factum est

Hans Leo Hassler

2:40
6
Haill! Quene of Heven

Ross Edwards

1:41
7
Ave Maria

Tomas Luis da Victoria

0:55
8
Nativity

John Taverner

3:05
9
Corde natus

Plainsong

2:36
10
O magnum mysterium

Tomas Luis da Victoria

3:31
11
Come, Love we God

John D'Arcy

3:22
12
Gaudete

Anon.

2:00
13
Riu, Riu, Chiu

Anon.

1:54
14
O magnum mysterium

Giovanni Perluigi da Palestrina

3:36
15
Christ the King

Clare Maclean

9:50
16
Sicut cervus

Giovanni Perluigi da Palestrina

3:09
17
Tu est Petrus

Giovanni Perluigi da Palestrina

3:22
18
O magnum mysterium

Giovanni Gabrieli

3:45
19
Jesus Christ the apple tree

Elizabeth Poston

3:13
20
Ave verum corpus

William Byrd

4:02
Other Adelaide Chamber Singers CDs