We are delighted to release details of our Season 2018. With three stimulating 'multiple performance' programs, plus our Late Night in the Cathedral Festival program, 2018 promises many highlights. We welcome Seniors to purchase at concession prices. ACS is pleased to offer Companion Card holders complimentary tickets for a companion to accompany them – to organise please contact ACS by email or phone 08 8352 1329.
Purchase your Single Concert Tickets by clicking the 'Book Online' button next to each concert listing below or go to our Shop.
To Purchase a Concert Package Click Here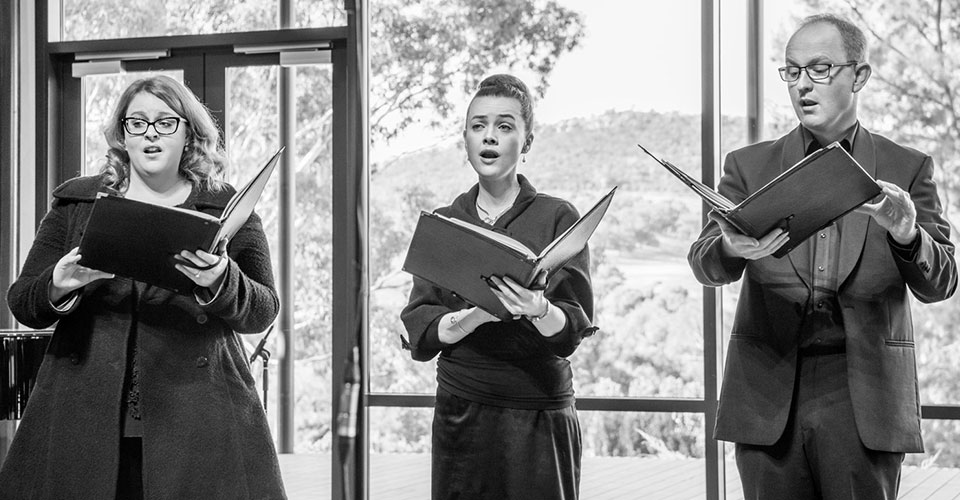 Friday
10 August
Grainger Studio
Adelaide, 7.30pm
SOLD OUT
Saturday
11 August
Pilgrim Church
Adelaide, 6.30pm
SOLD OUT
Sunday
12 August
UKARIA Cultural Centre
Mt Barker Summit, 2.30pm
SOLD OUT
Only The Fire Can Say considers inheritance – of memory, people, places, objects and ideas we grow with – that become part of our personal living history. It's through this inheritance that we travel through our own seasons in this world, knowing what makes us whole and connected. We choose what remains for generations to come. Featuring music for voices and strings by Vasks, Gjeilo, Lauridsen, Ešenvalds and newly commissioned music from Sydney-based composer Luke Byrne.
Conductor
Christie Anderson
Sacred Heart – Ola Gjeilo
Plainscapes I, II & III – Pēteris Vasks
Sure on this shining night – Morten Lauridsen
Desert Sea and New Work (ACS commission) – Luke Byrne
Only in sleep – Ēriks Ešenvelds
Adult: $45
Concession: $37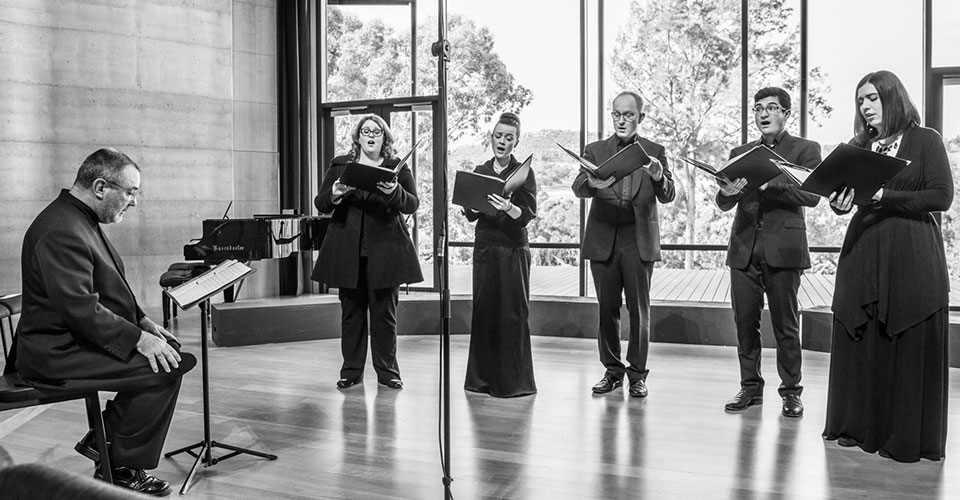 Friday
12 October
Samstag Museum of Art
Adelaide, 7.30pm
Saturday
13 October
Pilgrim Church
Adelaide, 6.30pm
Sunday
14 October
Christ Church
North Adelaide, 2.30pm
Monteverdi, Whitacre, Maclean, Stanhope – these are well-known names in our choral world but in this program we explore the beauty and the melancholy of love, death and transfiguration in a very different way. Following our creative presentation of Monteverdi's Fire in 2014, we invite you to experience this music with fresh ears and eyes as we re-discover and re-imagine some of our favourite music.
Conductor
Carl Crossin OAM
Creative Director
Andy Packer
New Work (ACS commission) – Paul Stanhope
Sestina Claudio – Monteverdi
Christ the King Clare – Maclean
A Boy and a Girl – Eric Whitacre
And music by Anne Cawrse, Carl Crossin and Robert White
Adult: $45
Concession: $37
Late Night In The Cathedral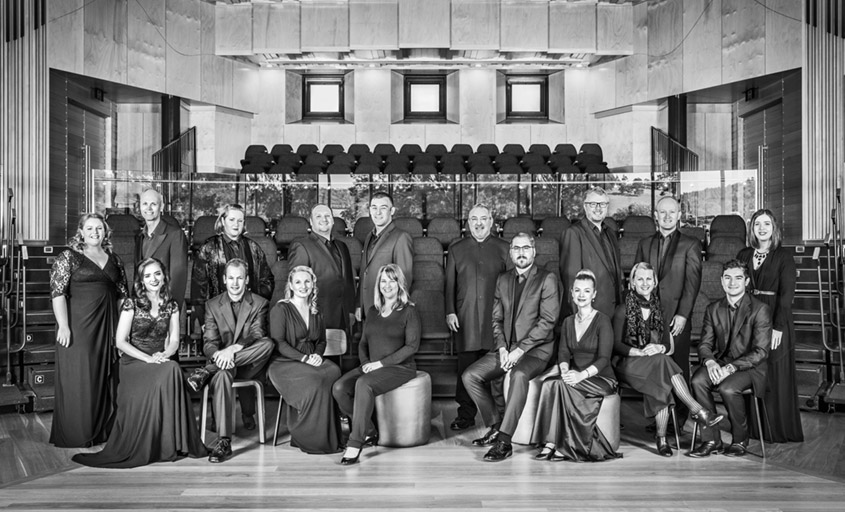 Friday 9 March
St Peter's Cathedral
Adelaide, 10pm
Sunday 11 March

St Peter's Cathedral
North Adelaide, 10pm
If, as they say, the past is 'a foreign country' then we are its emigrés and our cultural heritage is at the heart of our diaspora! Music of the past has inspired Panufnik, Pärt, Williams and Shelley and their point of departure is glorious polyphony from the cradle of choral music – the Renaissance. And for Whitacre and Leonardo da Vinci? Theirs is an altogether different flight of the imagination!
Conductor
Carl Crossin OAM
Magnificat – Arvo Pärt
Kyrie (from Mass for 5 Voices) – William Byrd
Kyrie After Byrd (after Byrd – Kyrie: Mass for 5 Voices) – Roxanna Panufnik
Mille Regretz – Josquin des Prez
Messe Sans Regretz – Brooke Shelley (Aus.)
Leonardo Dreams Of His Flying Machine – Eric Whitacre
Ave Verum Corpus – William Byrd
Ave Verum Corpus Re-Imagined – Roderick Williams
Dum Medium Silentium – Vytautas Miškinis
Immortal Bach – Knut Nystedt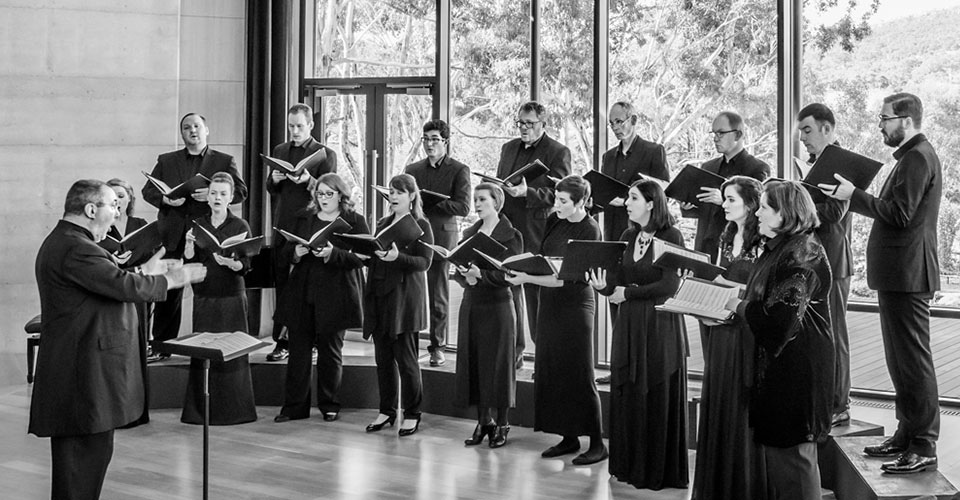 Saturday 5 May
UKARIA Cultural Centre
Mt Barker Summit, 6.30pm
Sunday 6 May
St Peter's Cathedral
North Adelaide, 2.30pm
From the turbulence of 17th and 18th century Germany, through the ears of Bach and Schütz, to the humanistic, and affirming realm of Brahms' Requiem, Adelaide Chamber Singers and the Choir of St. James' Church, King Street combine in perfect harmony. Pianists Jamie Cock and Kristian Chong join us for Brahms' own piano duet version of his beloved Requiem. And, we welcome the first ACS commission from emerging Adelaide composer and member of ACS Rachel Bruerville.
Conductors
Carl Crossin OAM & Warren Trevelyan-Jones
Guest Choir
The Choir of St. James Church, King Street, Sydney
Pianists
Jamie Cock and Kristian Chong
Komm, Jesu komm – JS Bach
New Work (ACS Commission) – Rachel Bruerville
Requiem (1871 version for choir and piano duet) – Johannes Brahms
…and selected motets – Heinrich Schütz
Duration – 110 minutes including a 20 minute interval
Anne & Gordon Samstag Museum of Art
All public areas are easily accessible by wheelchair
---
Christ Church North Adelaide
Enter via door on south eastern corner of church
---
Pilgrim Church
Enter via rear door on eastern side
St. Peter's Cathedral
Enter via side door off carpark on northern side of Cathedral
---
UKARIA Cultural Centre
Access through main doors to auditorium