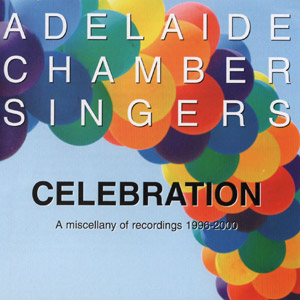 This CD can be purchased through John Davis Music, 1/15 Vaughan Place, Adelaide (T 8232 8287) or www.trybooking.com/JTTQ
This CD recording celebrates fifteen years of concert giving, broadcasting and touring by Adelaide Chamber Singers. The recordings themselves are drawn from the choir's concert archives and previous CD releases. The recordings span the five year period from April 1996 to November 2000 and chronicle the wide variety of genres and musical styles which have featured in the Adelaide Chamber Singers' repertoire in recent years.
The recordings are of concerts and other performances in chapels and churches from Adelaide to Oxford.
Total Time
69:05
1
Stabat Mater

Giovanni Pierlugi da Palestrina

9:42
2
Dixit Dominus (from Vespers of 1610)

Claudio Monteverdi

8:14
3
Ubi Caritas

Maurice Duruflé

2:19
4
Lobet den Herrn, alle Heiden

J.S. Bach

6:17
5
O Magnum Mysterium

Tomas Luis da Victoria

3:30
Israel in Egypt (Excerpts)

G. F. Handel

6
He smote all the first born of Egypt
2:24
7
He is my God
0:42
8
And I will exalt him
2:52
Whispering Winds

Tim Sexton

9
The Fields of Corn
2:39
10
Whispering Winds
2:32
11
Sundown
1:29
12
Kondalilla

Stephen Leek

6:59
Mass for the Middle Aged (Excerpts)

Graeme Koehne

13
Libera Me
5:33
14
In Paradisum
6:43
Love Lost

Paul Sjolund

15
When you're away
0:42
16
Careless words
0:21
17
Your little hands
0:58
18
A Nightingale sang in Berkeley Square

Arr. Gene Puerling

4:18
Other Adelaide Chamber Singers CDs